Talent Solutions Overview
Change is inevitable, but it's possible to adapt and even thrive with Saicon's Contract, Contract-to-hire and direct hire staffing options. This wide range of solutions allows you to take a more strategic approach to acquiring resources. By remaining nimble, you can easily adapt to changing project objectives, implement new projects or deftly take a new direction.
Our flexible Talent solutions ensure success every step of the way.
Access to talent. Highly trained, upwardly mobile consultants with specific technical expertise to handle your essential tasks. Our network of highly qualified professionals bring an impressive array of skills, including hardware, software, operating systems, databases and programming languages.
Workforce control. Keep core team lean and add experts for critical project support without adding to permanent headcount. Saicon maintains a network of highly qualified consultants to choose that meet your individual and business needs.
Full compliance. As employer of record, we provide liability and workers' comp insurance, and manage all pay and withholding.
Diversity initiative partners. We recruit for your specific diversity initiatives and partner with woman- and minority-owned businesses to respond to 100% of your diversity staffing needs. We also maintain relationships with women-owned and minority-owned vendors and subcontractors.
100% Satisfaction. Constant, ongoing communication assures a smooth and successful contract experience. Any issues are addressed quickly and proactively without disruption to your business.
Peace of mind. Each of our contract consultants is covered by our general liability, workers' compensation and employer liability insurance. As the employer of record, Saicon is responsible for all federal, state and local tax regulation and withholding.
Talent Solutions Overview:
Contract. Scale your team for projects of any size or demand spikes, implementations, upgrades or rollouts. Access specialized skill sets on as-needed basis.
Contract-to-Hire. Assess a candidate on assignment to ensure a strong talent and cultural fit before extending an offer.
Career Placement. Streamline your search. Saicon will handle sourcing and screening of candidates. You choose from only the most highly qualified prospects.
Payrolling. Place the contractors of your choice onto our payroll. We take care of paycheck distribution, tax withholding, workers' compensation and benefits.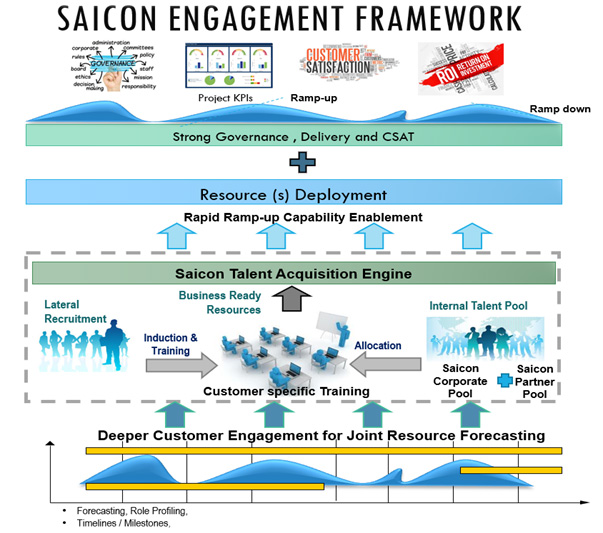 Leverage Our Talent Pool
With 24+ Years of experience in providing Talent Solutions to several of our customers, SAICON has a proprietary Talent Pool containing more than 2+ Million IT resources that are based on several IT markets in the United States. Our Talent Pool is constantly refreshed and updated from several parameters by our experienced Talent Advisors.
Our Talent Pool is managed through a 'state of art' Technology that combines our home-grown proprietary databases several Automation and Artificial Intelligence tools to connect, collaborate with our Customers and Talent.

We offer Talent in a variety of engagement models to our customer and below is a list including, but not limited to skills / competencies that we support recruit for a wide range of positions:
Applications & Systems Security
Developer
Mobile Developer
Web Developer
Front-End Developer
Business Analyst
Systems Analyst
Quality Assurance
Systems Administrator
Project Manager
Program Manager
Project Coordinator
Project Administrator
Desktop Support
Security Specialist
Network Engineer
Network Administrator
Network Architect
PC Technician
Technical Support
Support Analyst
Help Desk
Big Data Engineer
Business Intelligence & Data Analytics
Solutions Architect
Big Data (Hadoop/HANA)
Database Administrator
Data Analyst
IT Manager
IT Director
Software Engineer
Systems Engineer
Technical Writer
Instructional Designer